Insurance Inspection South Florida
Wind Mitigation
The purpose of the wind mitigation inspection is to lower the homeowner's insurance policy. Florida passed a law requiring insurance companies to offer their customers discounts and credits for existing building features and home improvements that reduce damage and loss
from wind. To qualify for this discount, homes must undergo a certified home wind inspection. Wind Mitigation inspectors look for construction features that have been shown to reduce losses in hurricanes, such as a hip roof, concrete block construction, the presence of gable end
bracing, shutters, and opening protections, the presence of single or double roof straps, and the presence of a secondary water resistance barrier.
4 Point Inspection
A 4 Point Inspection consists of four primary areas of interest inside a home:
HVAC (Heating, Ventilation, and Air Conditioning)
Electrical wiring and panels
Plumbing connections and fixtures
Roof
The inspection is designed to identify the existing condition of the property and assess the remaining life expectancy of the materials in place. This is a mandatory inspection due to the age of the property. It is usually required by the insurance company when a home reaches 30 years of age. Some underwriters can ask for this inspection at their discretion, even if the property is young.
Roof Condition Certification
Roof Condition Certification Inspection is a mandatory inspection by Citizens (insurance company). Homes over 25 years old with asphalt, fiberglass, composition or wood shake shingle, tar, and gravel roofing (or others not specifically listed) and homes over 50 years old with tile, slate, clay, concrete, or metal roofing and mobile homes over 25 years old must have the roof replaced to be eligible for coverage. To pass the Roof Condition Certification, the roof must have no damage or visible signs of a leak and at least three years of useful life remaining.
Elevation Certificate
Elevation Certificate (EC) is a report used to determine if a property lies in a flood zone and how high this property was built in relation to that flood zone. This information is used to determine the proper insurance premium rate.
A surveyor must perform this inspection.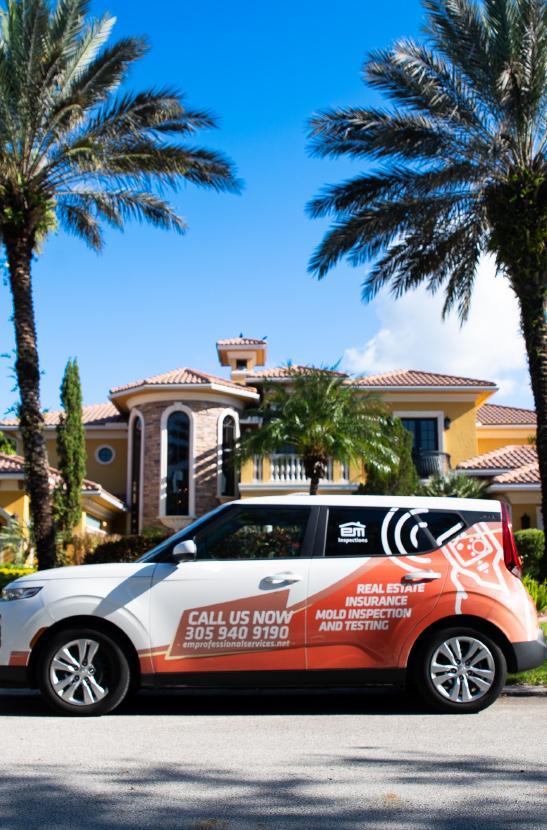 Opening Protections
Opening Protection Inspections are an essential assessment that evaluates the vulnerability of your property's openings, such as doors, windows, and garage doors, to potential damage from hurricanes, strong winds, and other extreme weather events.
Living in areas prone to weather conditions demands extra precautions to safeguard your home and loved ones. Our thorough evaluation will identify any weak points and provide valuable insights on how to enhance the protection of your property.
Claim Inspections
When unexpected events occur, such as property damage due to storms, accidents, or other unfortunate incidents, navigating the insurance claims process can be overwhelming. That's where we come in to support you every step of the way.
Our experienced team of Claim Inspectors is dedicated to assisting you in documenting the damage accurately and thoroughly. We understand the importance of a fair and timely claims settlement, and our goal is to ensure that you receive the compensation you rightfully deserve.
From residential to commercial properties, we handle a wide range of claims inspections, including property damage assessments, loss evaluations, and liability investigations. With our expertise, we help you build a strong and well-documented case to present to your insurance provide insights on how to enhance the protection of your property.
Replacement Cost Valuation Inspections
When insuring your property, understanding its actual replacement cost is essential. Our specialized Replacement Cost Valuation Inspections are designed to provide a comprehensive and up-to-date assessment of your property's replacement value. Whether you own a residential property, commercial building, or industrial facility, our inspections are tailored to meet your unique needs.
Our team of experienced and certified inspectors utilizes the latest industry standards and advanced valuation methodologies to determine the accurate replacement cost of your property. We consider various factors, including construction materials, labor costs, current market conditions, and local building codes, to ensure a precise valuation.
Why is Replacement Cost Valuation crucial? In the event of a loss due to fire, natural disasters, or other unfortunate incidents, traditional market value assessments may not fully cover the cost of rebuilding your property. Our detailed inspection reports provide you and your insurance provider with the necessary documentation to ensure adequate coverage and avoid
potential underinsured risks.
For more details on Commercial Inspections, please call us to discuss rates.